Ryman's Club – 08
Ryman's Club – 08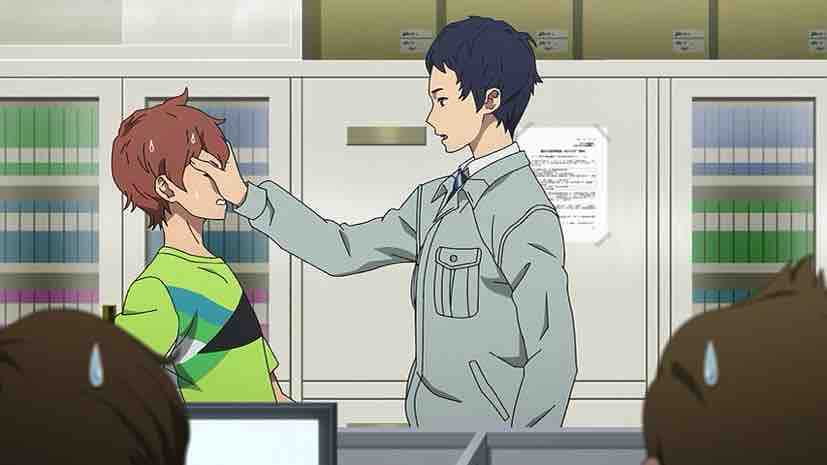 Ryman's Club has a good thing going. It set out to carve a niche for itself, and it inhabits that niche as comfortably as an old sweater. That's a luxury original series have, if the writing is good enough to take advantage of it. In truth there was nothing in the resumes of the co-writers Utsumi Teruko and director Yamauchi Ami) to suggest they were good enough – but everyone proving themselves has to start somewhere. Anime has seen a sharp spike in original sports shows over the past couple of years, but most haven't been especially good. Ryman's Club is right there among the best.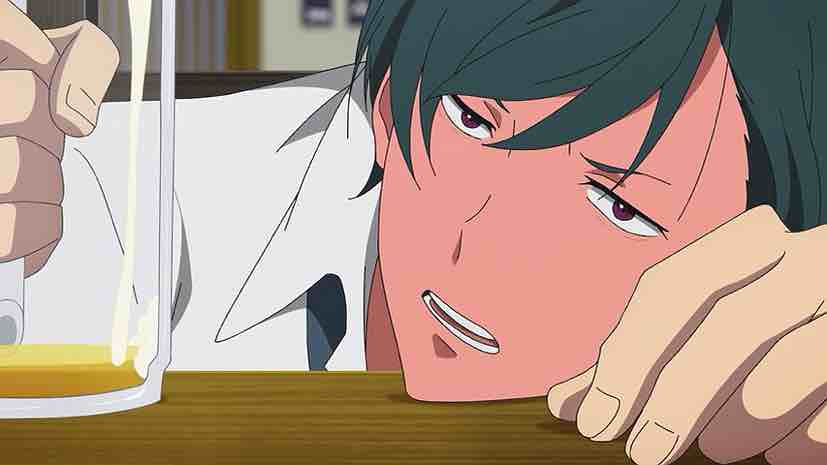 That Ryman's could deliver up another excellent episode largely in the absence of its best character (and actor) is encouraging. There was space to fill in the supporting cast here – they're more than interesting enough – and that's really what this episode was all about. Continuing the alternating pattern we saw this episode set mostly in the office, though thematically it was a mix of badminton and office drama. The S/J League is the big MacGuffin but the negi ginger rollout comes first.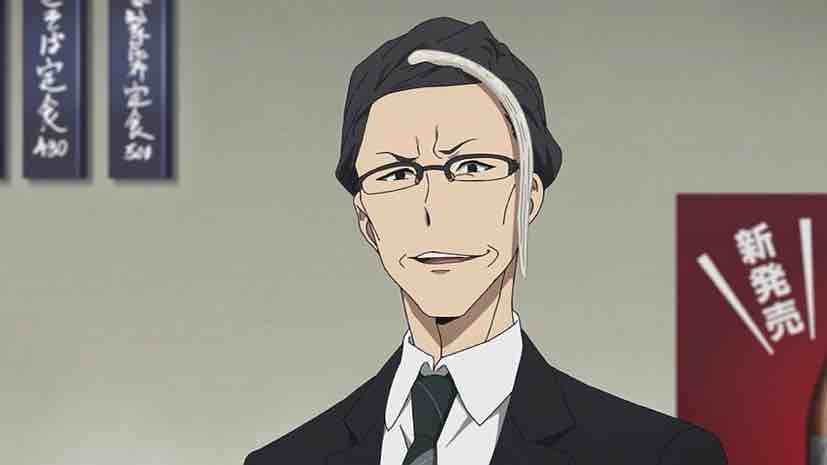 First off, Takeda decides to quit and become a coach. The timing seems off with him just having confronted his performance anxiety. But from his perspective it makes sense – he was able to play his best against Unisics, and still lost. With Usuyama joining someone was going to have to sit at the very least anyway, so this eliminates that conflict. But Usuyama is immediately drafted into the singles role, which means Saeki the elder is demoted to doubles with his brother. Neither Saeki seems happy about that, but it's Souta who's especially put off.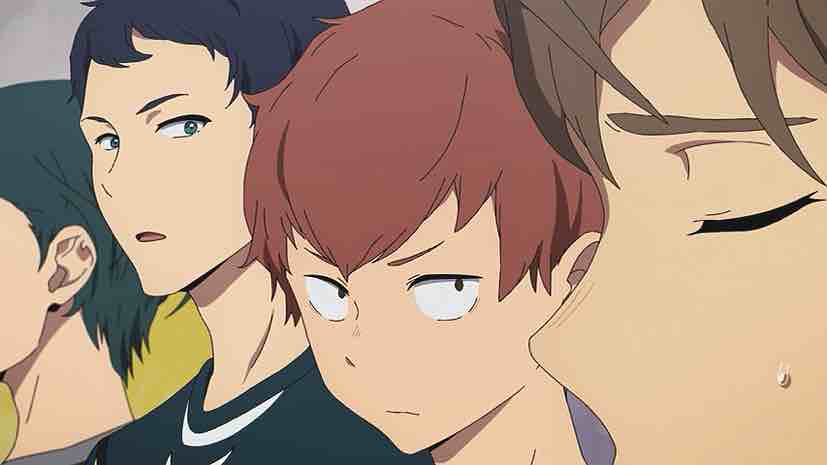 Meanwhile Tatsu is clearly distancing himself from both Mikoto and the sport. We know the reason of course but as he's chosen not to share it, his colleagues don't. Mikoto is especially hurt and confused – his legendary ability to read people apparently fails him here. Meanwhile Souta too quits, which Touya takes exactly as I would in the same situation – as a real slap in the face. Souta would rather quit the team than play doubles with his kid brother – no matter what other reasons he cites, it comes down to that.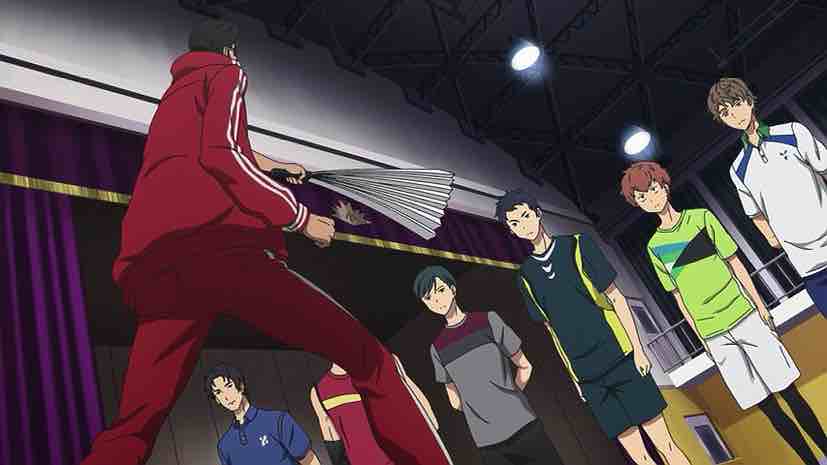 The Saeki brothers are the main focus of the episode, and they carry it effortlessly. These are two good seiyuu, and Ohsaka Ryouta especially can be counted on to really deliver when he's given some meaty material like this. He's also at the center of the office drama (it's a big ask for a 19 year-old to be in charge of a project) when his original bottle designs are rejected (by his brother) and the designer bails on him. Touya is the never-give-up type, and after a ramen confessional with Usuyama, Souta is already feeling a bit guilty over quitting. He manages to hook his brother up with a designer in America (a smart use of time zones) and he saves the day on the label front.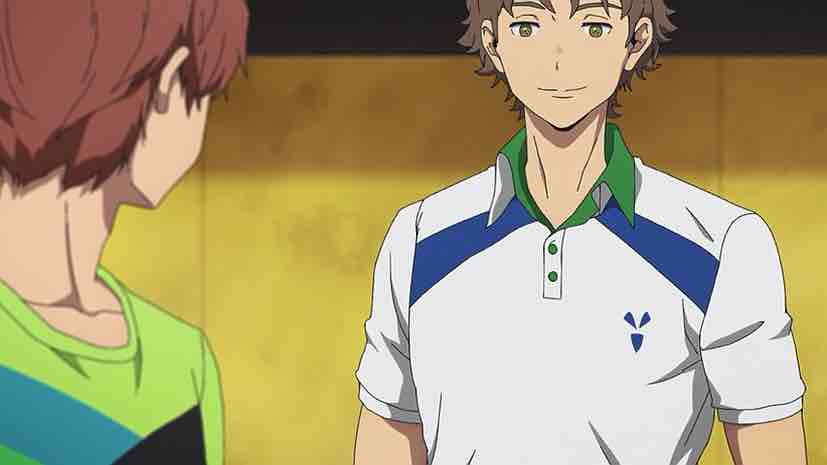 Souta does come back into the fold, but that's still going to leave the team a man down if Tatsu quits (as it's implied he's going to do). If his leg is the issue switching to singles wouldn't help anyway (it'd be worse) so when he tells Mikoto he wants out of their partnership, what he's really saying is he's quitting the team. Frustratingly the vibe is that he still isn't going to tell Mikoto why, and even though we know the truth will come out anyway that's still tough on a naive kid like him. There's also the matter of the weasel executive director trying to disband the club altogether.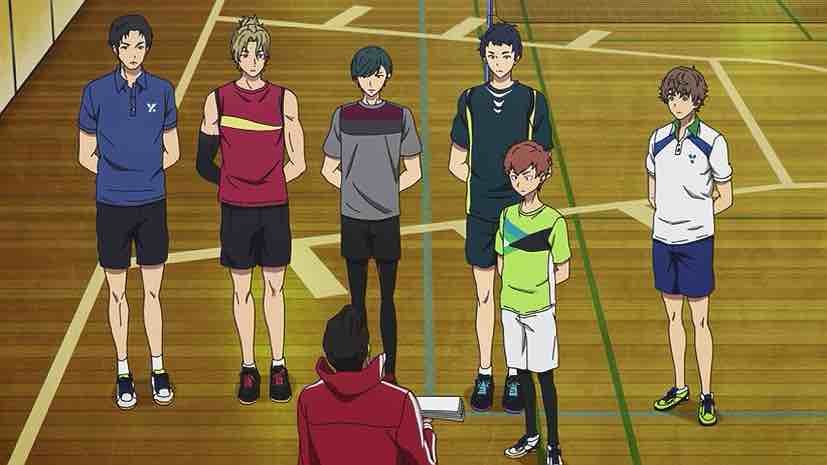 If I were a betting man, I'd say that izakaya scene is setting up a scenario where the E.D. and Mikoto make a "bet" where the team will be disbanded unless it wins the S/J League – which would be pretty on the nose, but still potentially entertaining. Tatsu's status is the big variable though – if he leaves the team it's a challenge both for practical and narrative reasons. It did fine for a week, but Tatsu – and Miki Shinichirou – becoming minor players would be a big challenge for Ryman's Club to overcome. If he does indeed retire, what will Utsumi and Yamauchi do to keep Tatsu relevant and involved?




[photo11]
[photo12]
[photo13]
[photo14]
[photo15]
[photo16]
[photo17]
[photo18]
[photo19]
[photo20]
[photo21]
[photo22]
[photo23]
[photo24]
[photo25]
[photo26]
[photo27]
[photo28]
[photo29]
[photo30]
[photo31]
[photo32]
[photo33]
[photo34]
[photo35]
[photo36]
[photo37]
Source:https://lostinanime.com/2022/03/rymans-club-08/